PGI's Geothermal Systems
DESUPERHEATER/CONCENTRIC VALVE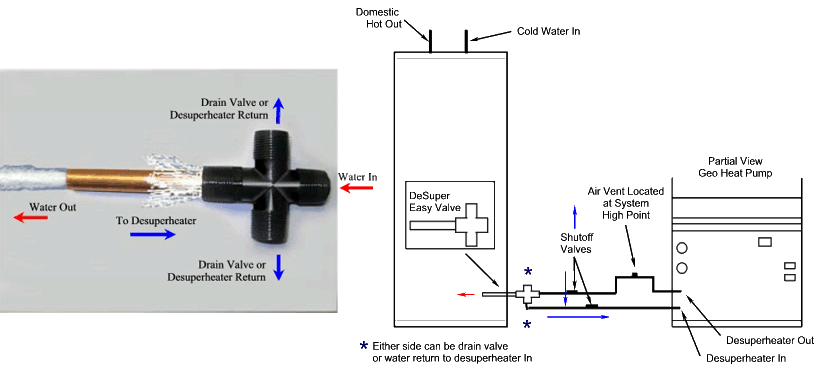 The DeSuper Easy Valve (DEV) was designed to ease geothermal domestic hot water desuperheater installation as well as improve efficiencies. It provides up to four water connections to a standard hot water storage tank that is oil, gas or electric heated.

Simply connect the DEV to the drain valve port of the domestic hot water storage tank. The DEV concentric valve allows the desuperheater hot water to be circulated into the tank while drawing out the cooler water for pre-heating. A typical geothermal desuperheater will pre-heat the storage tank water to 120 to 130 degrees F thereby reducing the energy typically needed to raise domestic cold water from about 55 degrees F to 140 degrees F.

The DEV/desuperheater combination allows a dramatic decrease in energy because the pre-heated water only needs to be raised 15 to 20 degrees in lieu of the typical 85 degrees F.